The LIFELINE works with your favorite DJI drones like the Phantom 4 Series V1 & V2, Mavic 2 Pro, Zoom & Enterprise, Mavic 3 series, Inspire 1, and Inspire 2. We can also customize drones to meet your specific needs too.
​
At Skyshot, we love simplicity, because it means we can spend more time flying & doing what we love. Starting up the LIFELINE is easy. (1) Change the DJI battery settings, (2) Connect the LIFELINE Air Module into your DJI drone, (3) Power up the LIFELINE. Your DJI drone will work seamlessly. It's that easy!
3.5 HOURS
Provides up to 3.5 hours of battery life to a Mavic 2 Pro, and 2.5 hours to a Phantom 4.
7 KG
LIFELINE is the lightest, most compact tethered drone system in the market. Bring it on your missions all day.
MIL-SPEC TETHER
Strong, light-weight and tangle-free. Our field-proven Tether Technology provides continuous power to your airborne drone.
AUTO WINCH
Cable management is made easy with our optional auto-winch system.
CUSTOMISED SOLUTION
Need LIFELINE to be integrated into your drone? Or a complete turnkey Tethered Drone System, no matter the size?
With more than 10 years of experience in drones for industrial, commercial and military applications, we can provide the solution.
AIR TRAVEL SAFE
LIFELINE batteries are configured to meet airplane travel regulations. With 8 lithium batteries that are 88Wh each, they are made for easy packing.
NO-FLY ZONE? NO PROBLEM
Airport no-fly zone is an issue with conventional drones. LIFELINE tethered system may be the answer. The LIFELINE is fully approved by the Civil Aviation Authority of Singapore (CAAS) for in aerodrome operations within 5km of any airport in Singapore.
MOVE WITH THE DRONE
Most tethered drone systems in the market require generators or AC power, which limits their movement and area of coverage. LIFELINE is compact and battery operated. This allows the user to move with the drone, extending the coverage and creating more dynamic shots with the LIFELINE.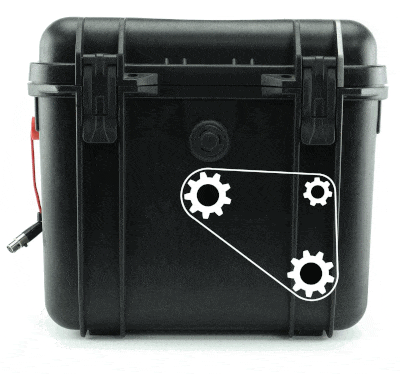 INTELLI-TRACT TETHER MANAGEMENT SYSTEM
Lifeline comes with the option of an automated tether management system. With Intelli-Tract, the Lifeline Tether is always regulated to remove excess slack in the line by utilizing an active sense-detect array that monitors force feedback and regulates the output torque on the reel. Simply turn on the Lifeline with Intelli-Tract, and the system is at your service within 10 seconds!
PERSISTENT POWER FOR LONG

OPERATIONS
LIFELINE has ultra-long flight time lasting up to 3 hours. Additional batteries can also be purchased to prolong your flight time. This is crucial for aerial imaging applications that require prolong operations like traffic management, event coverage, emergency response, and aerial time-lapse filming.
What is a tethered drone?

A tethered drone is connected to a ground station with tether cable that provides power. Unlike a conventional drone that has a limited flight time, a tethered drone has a persistant power source that can provide hours of continous flight time.

What are the drones that are compatible with the LIFELINE?

The LIFELINE is currently compatible with the DJI Phantom 4 series, the Mavic 2 & 3 series, Inspire 1, and Inspire 2. If you plan to use a different drone, please send us an email with your drone specs, and we will be happy to advise you.

Is there low battery warning on for the LIFELINE?

Yes there is! Upon reaching a pre-defined threshold, the Onboard Battery Monitoring System automatically triggers a battery alarm. Upon hearing the alarm, the operator has up to 3 minutes of additional flight time (Phantom 4) to execute a safe landing.

What is the maximum wind speed that the drone can operate?

This will depend on the drone type and payload attached. Do check with DJI and/or your drone manufacturer on the performance threshold. Typically, we do not recommend operating in wind speeds above 8 m/s.

Can the drone reach 60M with a 60 meter tether?

We do not recommend flying at 60m because the cable pull will stress the tether unnecessary.

Is a tethered drone subjected to drone regulations?

This will depends on the country you operate in. In some countries, a tethered drone is not classified as a drone because it is physically secured to an anchor point and it cannot fly freely. In other countries, the tethered drone is subjected to regulations similar but less restrictive than a conventional UAV. In Singapore, the LIFELINE-S is approved by the Civil Aviation Authorities of Singapore (CAAS). Please refer to the civil aviation laws of your country for compliance with the local regulations.

What is the order processing and shipping time?

The order processing time may take up to 4 weeks, depending on the stock levels. We ship via DHL air freight so the shipping time is according to their estimation.

What is the warranty period & conditions?

The Warranty Period for Physical Goods purchased from Skyshot Pte Ltd is 6 months from the date of purchase. To find out more, please refer to this warranty document.